While Tanzania outlawed female genital mutilation (FGM) in 1998, mass FGM ceremonies are still going on, in particular in the November-January season. Activists expect over 5,000 girls to be cut "this holiday season".
The government of Tanzania passed a law prohibiting FGM in 1998 and yet reports indicate that during the current holiday season, about 250 girls have already been cut and over 5,000 girls are at risk of being genitally mutilated in Tarime district of Tanzania's Mara Region alone.

Faiza Jama Mohamed, Nairobi Office Director of the human rights group Equality Now asks, "What is the use of having a law against FGM if the government has no plans to implement it?"
"Despite being aware of the preparations undertaken by communities to conduct mass mutilations, the police in Tarime have failed to prevent the mutilations," the gender activist adds. There had also been "no known arrests of any perpetrators related to the cases of the girls who have already been subjected to FGM."
It is estimated that over 150 girls have fled for fear of being genitally mutilated and are currently housed in local shelters. "It is a public health and human rights crisis that the Tanzanian government is reluctant to address," continued Ms Mohamed.
In Tanzania, FGM is practiced by specific ethnic groups in Dodoma, Singida, Arusha, Kilimanjaro and Mara regions. Although the FGM national prevalence rate in Tanzania is estimated at only 14.6 percent, it is very high in the regions where it is practiced.
This includes Tarime district which has a particularly high rate of FGM when compared to others. According to a 2002 survey conducted by Tanzania's Legal and Human Rights Center (LHRC), FGM is openly and defiantly practiced in Tarime with a prevalence rate of about 85 percent among the rural female population in the region.
The practice is performed on cohorts of girls in ceremonies that tak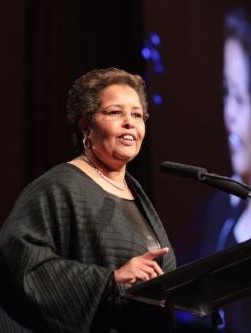 Faiza Jama Mohamed heads the Nairobi office of Equality Now
© Faiza Jama Mohamed dirige la oficina en Nairobi de
e place at least every two years in almost the entire district. Many girls in this community drop out of school and are married off after undergoing FGM. LHRC fears that every day between November 2010 and January 2011, around 100 girls may be at risk of genital mutilation in the region.
The government of Tanzania prohibits the practice of FGM under its Sexual Offences Special Provision Act 1998. The law provides that anyone having custody, charge or care of a girl under eighteen years of age who causes her to undergo FGM commits the offence of cruelty to children.
"Yet, only a handful of cases have reached the courts in recent years and the police are reluctant to arrest and prosecute the perpetrators," according to Equality Now. "Although a number of police stations house units to specifically address gender-based violence, including enforcement of the anti-FGM law, the police continue to fail to protect women and girls from FGM," the group adds.
"While it is common knowledge that the communities practice mass ceremonies of FGM every two years, there has been no attempt by the statutory and law enforcement agencies to educate the communities against FGM and to impress on them the illegality of the practice, despite the decades-long efforts of local organizations dedicated to reach these goals," the gender activists hold.
According to Ms Mohamed, "there is still time to save girls from FGM. Tanzanian authorities must take strong and immediate action in Tarime against the perpetrators and prevent further incidences from taking place. They need to send parents and circumcisers a loud and clear message that such blatant disregard for the law will not be tolerated."
URL: Click here
DATE: 17/12/2010