Having undergone rape by her husband while her uncles pinned her down, 19-year-old Mary Solio continues to struggle for her rights in an indigenous community in Kenya where illegal rites of passage like female circumcision persist.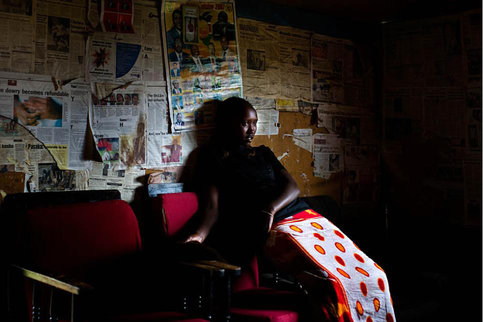 A subject of Marvi Lacar's coverage, 19-year-old Mary Solio was raped by her own husband and was impregnated because of the abuse. She was one of the first girls rescued by the Tasaru Ntomonok Rescue Center in Kenya. Photo by Marvi Lacar / Reportage by Getty Images
Reviewed over the weekend by a major news channel in New York, a Filipina-made short film threw the international spotlight on the plight of Solio and other disadvantaged girls in Kenya. Titled "Escape," the film by Marvi Lacar caught the attention of NY1 News, Time Warner Cable's 24-hour news channel in New York City.

Time Warner Cable is a subsidiary of Time Warner Inc., which operates the international news network CNN.

"It's a film that's designed to raise awareness and touch a nerve," said NY1 correspondent Cheryl Wills in her report about "Escape."

Reached by GMA News Online via Facebook, Lacar said she made the film on Kenyan women "not only to bring awareness to the plight of these girls but to get viewers invested enough in their future and help them through donations, outreach, education, etc."

Lacar added that the film is in the process of seeking distributors.


ESCAPE Trailer from Benjamin Lowy/Marvi Lacar on Vimeo.

Female circumcision stories

On her personal website, Lacar said the film documents the stories of Maasai tribe girls who escaped or were rescued from female circumcision and childhood marriages.

Involving the mutilation of the clitoris, the circumcision ritual "is a prerequisite to marriage as it is believed to turn a girl into a woman and cleanse her blood, which will finally make her worthy of a man's touch," according to Lacar.

"It is also believed to stifle her libido thus ensuring her fidelity to her husband. Girls undergo this rite from as early as 8 to 15 years of age," she added.

Lacar expressed shock over the Kenyan rites of passage in her interview with NY1. "I don't think you are ever really emotionally prepared to see things like that, especially something that happens to children," she told the news channel.

The other side of Kenyan girls' struggle, however, also took the center stage in the New York-based filmmaker's project.

Describing efforts to rehabilitate the Kenyan women, NY1 quoted Lacar as saying, "Education and freedom … [were] more important to the girls than their mutilated genitals."

Photojournalist since 2004

In producing the film, Lacar brought with her a background as a photojournalist who has covered domestic and international assignments since 2004. Her work on female circumcision and childhood marriages in Kenya inspired Lacar to transition from photography to film, according to the filmmaker's biography on her website.

Born in 1976, Lacar hails from Iligan City and moved to the United States at the age of 15. She lives in Brooklyn, New York, with her husband and son.
SOURCE: GMA News
AUTHOR: Paterno Esmaquel II
URL: Click here
DATE: 29/04/2011